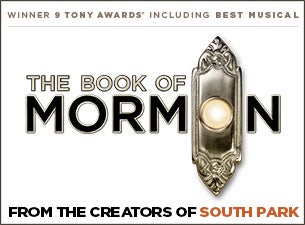 I bought my boyfriend tickets for Book of Mormon back in October and the night finally came around last night.
It. Was. Amazing.
If you don't know about Book of Mormon (have you been living under a rock?!) it is the musical brain child of Matt Parker and Trey Stone (creators of South Park), and Robert Lopez (of Avenue Q). It premiered on Broadway in 2011 and since then has had a National US Tour, a residency in Chicago, and is now on the West End. It has won 9 Tony's to date (including Best Musical and Best Book of a Musical) and a Grammy for Best Musical Theater Album.
The vast majority of reviews for Book of Mormon are incredible, it has been hailed as "the filthiest, most offensive, and—surprise—sweetest thing you'll see on Broadway this year, and quite possibly the funniest musical ever" (Vogue Magazine), and the New York Post reported that audience members were "sore from laughing so hard" (myself included).
It follows two young Mormon missionaries as they are sent to their destination and try to convert the locals to their religion.
I love Team America and South Park: Bigger, Longer and Uncut, so as you can imagine, I was super excited for this. It did not disappoint at all. The songs are catchy (I'm listening to the album right now), and the characters are hilarious. The two of us laughed the whole way through. There are some topics that I just don't think anyone but Parker and Stone could pull off (if you've seen South Park/Team America, you will know what I mean).
And just for you food lovers, here is my pudding from Yo Sushi before the show. This is one of my favourite things at Yo Sushi, and possibly one of my favourite puddings ever.
Yum!

So there you have it. Book of Mormon is incredible.
Are any of you planning on seeing it? Or have seen it already?
Sarah xx